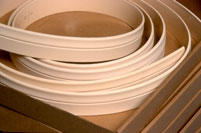 Flex Trim mouldings typically ship coiled up in a box. Very large mouldings and very long lengths may be shipped on a pallet for easier handling.
---
You can check the status of your order anytime by clicking on the order status link and entering your invoice number and the email address that was used at the time the order was entered. After the order has shipped, the tracking numbers will automatically be sent to your email address.
---
Item X and item Y look the same. What am I missing?
There are some "duplicate" styles on the web site that have different item numbers. Some are exactly the same but have different item numbers and prices. This is because over the years as new items are added some times a duplicate is created. We have also deliberately added duplicates with different part numbers that match the part numbers of regionally available wood moulding.
---
Do you have a local supplier in my area?
We are an "Internet only" distributor of flexible mouldings and as such, do not have a physical sales office or showroom to visit.
---
Do you have a show room that I can visit?
We are an "Internet only" distributor of flexible mouldings and as such, do not have a physical sales office or showroom to visit.
---
How can I tell if your flexible moulding matches my wood?
Use the search tools provided to browse through the moulding catalog. When you see something that looks like a match, just click the item's picture to view it at full scale, put your moulding up to the screen and see if it matches. On the first use you will be required to go through a simple setup process.
You can also select items for side by side comparison by clicking the "compare" button. After selecting the items to compare, click the compare icon

at the top of the catalog page.
Check out our online help video or slide show for details.
Most mouldings on the site also have corresponding full scale drawings that can be printed by clicking the "Print Full-Size Drawing" button.
---
Shipping is typically via UPS Ground (unless otherwise selected) and averages about $15.00 or 10% of the order (whichever is larger). To find out exactly how much shipping is as well as the cost of a complete order, simply create an order. The charge card information is the last thing you are asked for and the order can be aborted before any charge card information is entered.
---
Do you have flexible moulding "in-stock"?
YES, many of the more common mouldings are in-stock and ship in 2 to 3 business days. Items that are not in-stock usually ship within 13-15 days. In stock items will be marked as such. You can also choose to view all in-stock items by clicking the "In-Stock" button when selecting a molding category.
---
Paint Grade mouldings for most styles are available from 4 to 20 continuous feet. Stain grade mouldings are typically limited to 4 to 12 foot lengths. All mouldings are sold in whole foot lengths.
---
We are happy to provide "generic" samples free of charge. Samples of specific items are provided for a fee of $15.00 which includes shipping. Samples are typically 12 to 18 inches long.
---
Does it come in different colors?
Like wood moulding, flexible moulding is intended to be painted (or stained in the case of stainable grade). Material that is not painted or stained will darken over time.
Prior to painting (or staining) the Flex Trim material has color similar to Pine or Golden Oak. The ZzzFlex material (where available) has a "pinkish" tint (more like Red Oak).

Flex Trim

ZzzFlex
---
Probably not. Most orders can be completed by providing a few simple measurements. Ellipticals, ovals and other irregular curves will require a template.
See TEMPLATE INSTRUCTIONS for more on templates.